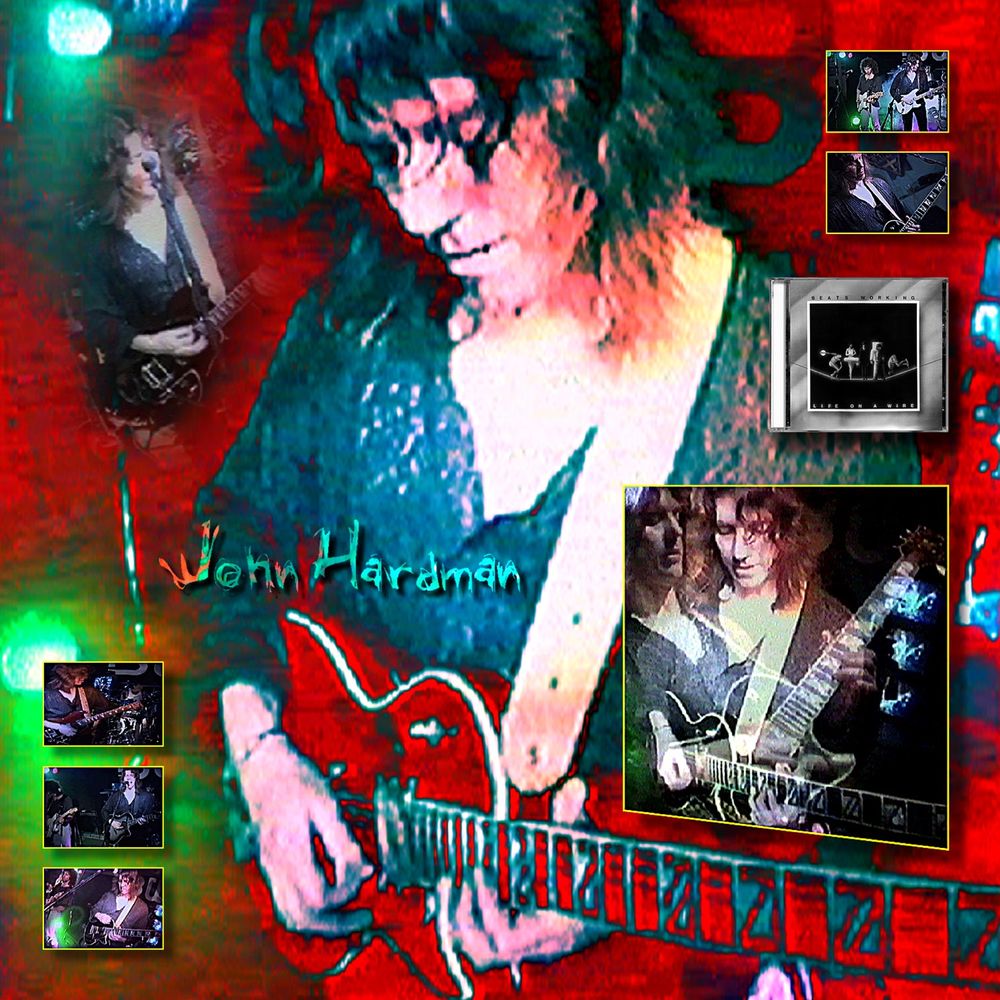 JOHN HARDMAN - SHORT BIOGRAPHY
Guitarist,vocalist,keyboard player,producer,songwriter. John started his professional career as writer and guitarist/keyboard player for EMI band Sunfighter in 1975-1978, working with Queen's producer Roy Thomas Baker and Chris Rainbow from The Alan Parsons Project 
1978-1980 John had a session career, working in most major London studios of the day, touring as well with musician/comedian Max Boyce. Numerous TV appearances were made including BBC's Top Of The Pops, Supersonic, Pebble Mill, Royal Variety Show, televised live shows and videos. In 1980 John released his first solo single on Gallery/WEA label and also formed his own independent record label with his brother called Swamp Records (UK) and a number of eclectic releases were made by such artists as Telephone Bill & The Smooth Operators, Neil Lewis, Eugene & The Syncopaters, The Chief, Susie Hep, Ian Lang & Small Change and others. In November 1981 John's daughter was born and followed her father's footsteps into the music industry (later on better known as Sarah Harding of the British hit girlband 'Girls Aloud'). In 1984 John started working with Gus Dudgeon (best known for his Elton John/Chris Rea/Elkie Brooks album productions). Several tracks were produced between John and Gus, 2 of which appeared on Beats Working's debut album in 1986. Sadly Gus, his talent and his wife were taken from us at a later date, and they are much missed. From 1986 the label concentrated almost exclusively on John's work with his new rock band Beats Working, consisting of John on vocals, guitar, keyboards & writer, Chris Glover on drums & percussion, Dave Rea on guitar (and later on Simon Prickett), and Lynn Sheppard on bass/vocals. Beats Working have released some 10 albums over time, and various singles to date, including a one-off album called Good Love by 'Class of 2' (John & Lynn Sheppard, bass player and co-vocalist in Beats Working). As well, John has always been busy producing/playing guitar and/or keyboards for other artists, including writing and producing material for rock band 'The Rushing' and female dance/rock artiste K8. In 2012 he released a collection of his own songs written and produced over his long recording career, called 'Cooked Oxide'.
Since 2012 John has produced 3 Cooked Oxide albums with a number of single releases as well. In the same year he also formed the John Hardman Band (guitar based rock) with a number of single releases and an EP of tracks all recorded at his Rockbarn Studios in Wales. As well as many JHB gigs, Beats Working releases and occasional gigs have also continued. In 2015 John teamed up with his talented musician friend and singer/songwriter Denny Lloyd for an acoustic album called 'In Short Trousers - protest songs of generations past' containing 14 acoustic covers of well known songs, and one original song written by the two of them. Their song is called 'Losing My Mind'.  The duo is called 'Intrinsik'.
John  is writing and producing new material all the time, details of which will appear on this website when released. 
Thanks for reading if you got this far(!), and thanks to all the musicians and technicians, helpers and fans who have helped him on his musical journey - stay safe ...